Toward the work sharing of the processes and the overall cooperation. A new step for your BtoB Sales
Three offers
Plentiful field proven performances
In recent years Inside Sales has been spreading among Japanese corporates as an approach to the sales reformation. Since our inauguration in 2002, we, as the leading company supporting BtoB Sales reformation in Japan by using Inside Sales, have been offering various services of "Consulting", "Outsourcing", and "Tools" concerning Inside Sales to corporates in wide range of businesses such as IT, communication & information, distribution, and manufacturing. We achieved No.1 domestic market share for eight years in a row in BtoB outbound telecall services. Our unique and consistent effort has been highly valued by our clients.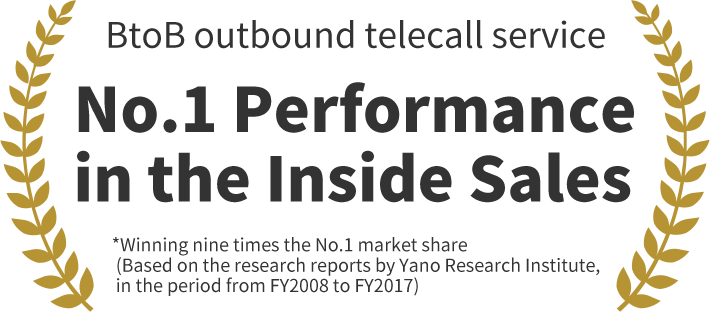 Digital Inside Sales
Inside Sales are further reinforced with Digital Technology
The future Inside Sales which we envision are the Digital Inside Sales which are more advanced and positively using the latest digital technologies including AI. By utilizing the digital technology, we can realize the sharing of information and knowledge using AI, or we can effectively utilize the web sites using Marketing Automation. In this way, we aim to improve the pipelines, that is, the seeds for the future revenue, both in quality and in quantity, and as a result to contribute to the revenue advancement more than ever.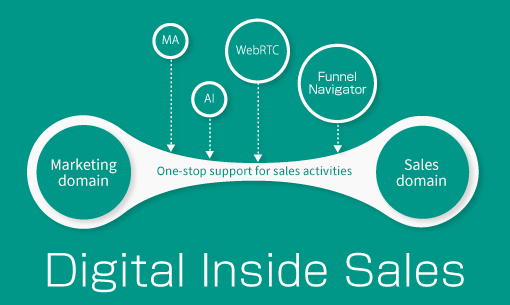 Eight product services
Offers can be tailored into a partial or total configuration which corresponds to your situation and goals.
You can utilize our eight product services created on the concept of Digital Inside Sales, both in partial and in total configurations. Our services can be utilized in the best suitable configuration that corresponds to your conditions, organization structure, and objectives. This makes a great appeal to our client corporates tackling with their sales reformation.